Cantilever Rolling Ladder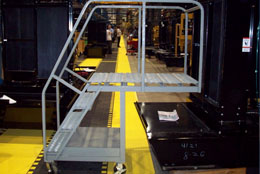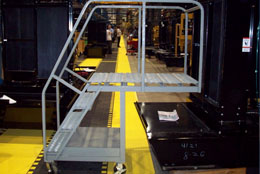 Cantilever Rolling Ladder
The design of a Cantilever Rolling Ladder allows workers to go up and over obstacles. Custom ladders available to fit your needs.
The cantilevered portion of this rolling ladder is perfect for accessing hard to reach areas while maintaining a high level of safety. If there are floor obstacles in the way, simply go up and over them to reach the work area in you shop or warehouse.
Standard Features:
57 degree slope is standard
24" wide steps
Individually locking casters
Counterbalance weight at base
300 lb. load rating
1" square tube construction
30" handrails
Gray industrial enamel finish (shown with optional yellow finish)
Custom sizes and deeper overhang available upon request
Options:
HEAVY DUTY 500 lb. load rating
Deeper top platform
Yellow or other finish
Top walk off access with chain or gate
CAL OSHA compliant design
CALL US AT (888)-802-3651 OR CLICK BUTTON FOR A FREIGHT QUOTE
WHEN YOU PURCHASE A LADDER FROM DIVERSE SUPPLY, YOU ARE SIMULTANEOUSLY AGREEING THAT DIVERSE SUPPLY IS NOT LIABLE FOR ANY INJURY OR PROPERTY DAMAGE RELATED TO THE USE OF THE LADDER.
Cantilever Rolling Ladder - 14" Overhang
Model #
# of
Steps
Platform
Height
Platform
WxD
Overhang
Overall
Height
Base
WxD
Perforated
Tread
Serrated
Tread
DS-BS8SH30-SP
8
80"
24"x28"
14"
110"
32"x61"
$2,100
Call for price
DS-BS9SH30-SP
9
90"
24"x28"
14"
120"
32"x67"
$2,205
Call for price
DS-BS10SH30-SP
10
100"
24"x28"
14"
130"
32"x74"
$2,362
Call for price
DS-BS11SH30-SP
11
110"
24"x28"
14"
140"
35"x83"
$2,625
Call for price
DS-BS12SH30-SP
12
120"
24"x28"
14"
162"
35"x89"
$2,887
Call for price
DS-BS13SH30-SP
13
130"
24"x28"
14"
172"
37"x95"
$3,150
Call for price
DS-BS14SH30-SP
14
140"
24"x28"
14"
182"
37"x102"
$3,412
Call for price
DS-BS15SH30-SP
15
150"
24"x28"
14"
192"
39"x108"
$3,675
Call for price