Automatic Super Simplex Folding Stairway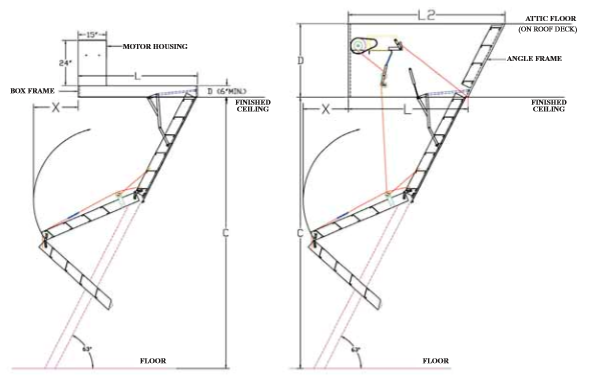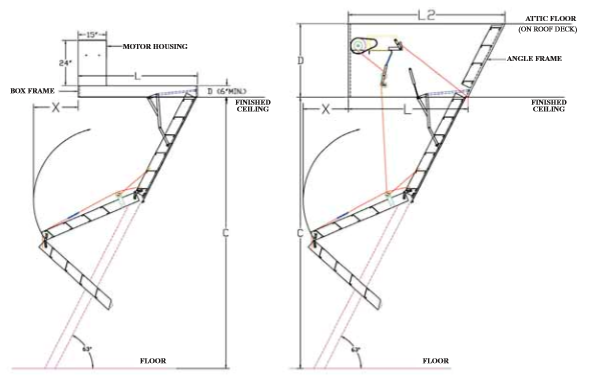 Automatic Super Simplex Folding Stairway
These folding ladders can be configured for ceilings up to 16' high with a level-to-level climbing height of 21'. One button push for operation.
These stairways are available in 2 different models. One is the S3000 Series which is semi-automatic where the door panel will open or close automatically, but the stairway sections must be manually folded or unfolded. The other model is the S4000 series which is fully automated. These ladders can be used for attic access or roof access. Custom made for ceiling height from 8' to 16' on S3000 series and 8' to 13'6" on S4000 series. No special wiring required.
Standard Features
Steel Frame

Extruded aluminum treads and siderails

Treads are 16-1/2" wide x 5-3/16" deep

Can be operated from above or below

Operated via wireless wall-mounted keypad

24V DC motor provides quiet operation for up to 10 full cycles with a 24 hour period in the even of a power outage

6' long 120v 15 amp power cord for simple connection to a power source

Motor has an enclosed gear case providing continuous lubrication and protection

500 load capacity

Actual shear of rivets tested at 1175 lbs

Meets ANSI for Commercial Use

Choose from Box Frame or Angle Frame
CALL US AT (888)-227-3920 OR CLICK BUTTON FOR A FULL QUOTE
Automatic Super Simplex Folding Stairway
WHEN YOU PURCHASE A LADDER FROM DIVERSE SUPPLY, YOU ARE SIMULTANEOUSLY AGREEING THAT DIVERSE SUPPLY IS NOT LIABLE FOR ANY INJURY OR PROPERTY DAMAGE RELATED TO THE USE OF THE LADDER.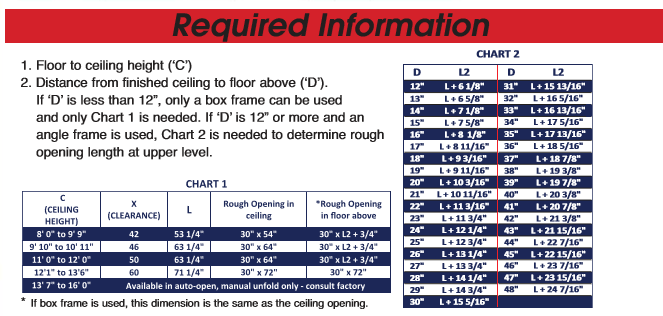 2 types of frames are available:
Box Frame [90 degree both ends] must be used when "D" dimension is less than 12"

Angle Frame [63 degree on hinge end, 90 degree on the other end] is standard when "D" is 12" or greater

Angle Frame has built-in treads on the hinge end of the frame to allow a continuous 63 degree climb. Max depth for frame is 60"
Choose either an aluminum door or an insulated steel door
When used for roof access [roof hatch factory-mounted to frame] a minimum "D" of 30" is required.
Information in videos subject to change without notice. Prior to ordering, please discuss critical features of the product with your Platforms and Ladders salesperson.