Polyethylene Fork Blade Protectors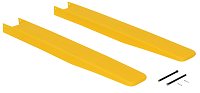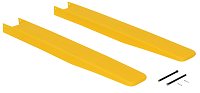 Polyethylene Fork Blade Protectors
Protect your fork blades and materials being moved from damage. Use these with 4" wide blades.
Polyethylene Fork Blade Protectors will help keep your assets from damage.
Standard Features
Blades that are 4" wide
Overall width is 4-3/4"
Maximum fork thickness 2"
Overall height is 2-3/8
Product not for use as fork extensions
Note: All products should be inspected frequently to insure safe operation. Final testing and inspection left to end user after final assembly has been completed
Polyethylene Fork Blade Protectors
WHEN YOU PURCHASE A FORK TRUCK ATTACHMENT FROM DIVERSE SUPPLY, YOU ARE SIMULTANEOUSLY AGREEING THAT DIVERSE SUPPLY IS NOT LIABLE FOR ANY INJURY OR PROPERTY DAMAGE RELATED TO THE USE OF THE FORK TRUCK ATTACHMENT.
Polyethylene Fork Blade Protectors
Model #
Fork
Length
Weight (lbs.)
Price
DS-F4-36
36"
6
$75
DS-F4-42
42"
7
$78
DS-F4-48
48"
8
$81
DS-F4-60
60"
10
$84
**minimum order of 2 sets