Fork Truck Loading Platforms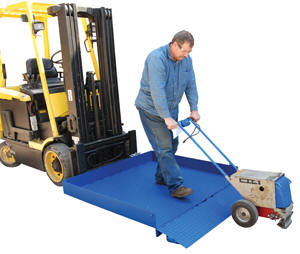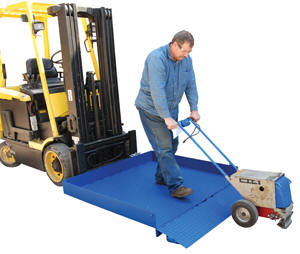 Fork Truck Loading Platforms
Don't have a dock? Use these platforms for loading and unloading trucks or even reaching the storage height you need to access.
Allows fork trucks to load and unload items into trucks and trailers. Use by inserting forks into pockets and chain platform to fork truck. Load items onto platform. Rotate and lock lip in vertical position. Transport item to be loaded to truck. Unlock and lower ramp. Lock can be operated from either side
Standard Features
2000 pound uniform capacity
12" lip to help with transition
6" toe boards
4 tie down rings [tie downs not included]
Diamond plate flooring
-HR has railings
Safety restraint for securing platform to fork truck
Painted blue enamel
Note: All products should be inspected frequently to insure safe operation. Final testing and inspection left to end user after final assembly has been completed.
CALL US AT (888)-802-3651 OR CLICK BUTTON FOR A FREIGHT QUOTE
WHEN YOU PURCHASE A FORK TRUCK ATTACHMENT FROM DIVERSE SUPPLY, YOU ARE SIMULTANEOUSLY AGREEING THAT DIVERSE SUPPLY IS NOT LIABLE FOR ANY INJURY OR PROPERTY DAMAGE RELATED TO THE USE OF THE FORK TRUCK ATTACHMENT.
Economical Portable Loading Platform for Fork Trucks
Model #
Platform
Size
Fork Pocket
[W x L x H]
Weight (lbs.)
Price
DS-FTLP-5454
54" x 54"
7-1/2" x 2-1/2"
337
$957
DS-FTLP-5454-HR
51" x 48-1/2"
7-1/2" x 2-1/2"
407
$1,189