Fork Lift Hitch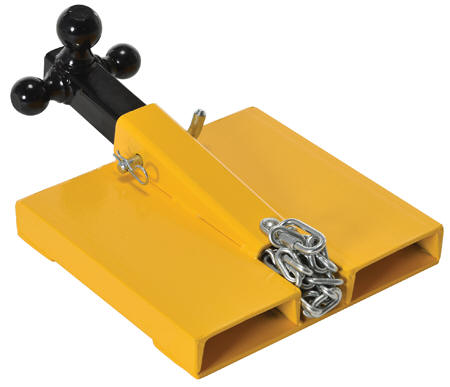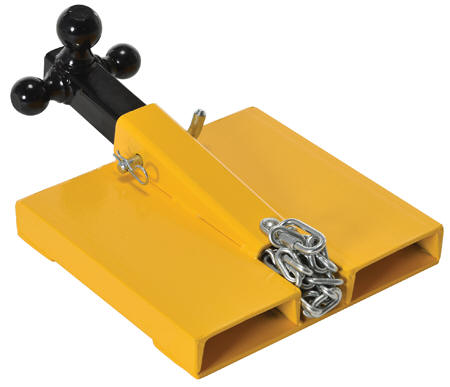 Fork Lift Hitch
Fork lift hitch is a superb addition to most manufacturing and maintenance facilities. (unit not intended for pulling)
Strong steel construction allows for long term use, even in the harshest of conditions. To use slide the fork lift forks in to the unit and secure safety chain to fork lift. Once in place, the unit is ready to be hitched to the desired equipment.
Standard Features
Maximum tongue load: 1,500 lbs.
Maximum push capacity for 1-7/8" ball: 2,000 lbs.
Maximum push capacity for 2" ball: 3,500 lbs.
Maximum push capacity for 2-5/16 ball: 7,500 lbs.
3 ball hitch attachment can be removed and rotated to desired ball
Lost load is 45 lbs.
Overall size 14-1/2" wide x 20-9/16" long x 8-1/16" high
Usable fork pocket is 4-5/16" x 1-11/16"
Includes 56" long chain to secure to forklift
IMPORTANT NOTE: Unit not intended for pulling
*****Never exceed load center rating per fork truck manufacturer's guidelines. Do not use this fork truck attachment if load will exceed fork truck manufacturer's load center rating.*****
Note: All products should be inspected frequently to insure safe operation. Final testing and inspection left to end user after final assembly has been completed.
CALL US AT (888)-802-3651 OR CLICK BUTTON FOR A FREIGHT QUOTE
WHEN YOU PURCHASE A FORK TRUCK ATTACHMENT FROM DIVERSE SUPPLY, YOU ARE SIMULTANEOUSLY AGREEING THAT DIVERSE SUPPLY IS NOT LIABLE FOR ANY INJURY OR PROPERTY DAMAGE RELATED TO THE USE OF THE FORK TRUCK ATTACHMENT.
Fork Lift Hitch
| Model # | Weight Lbs. | Price |
| --- | --- | --- |
| DS-FTTM-2 | 44 | $328 |
All dimensions are in inches