Aircraft Maintenance Ladder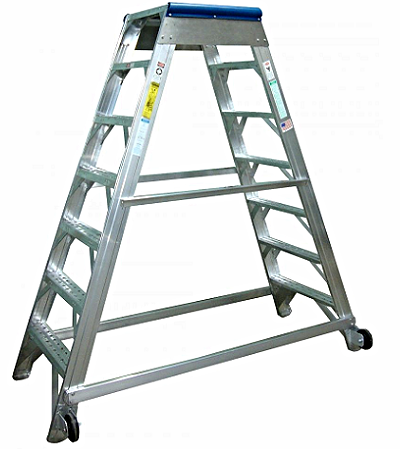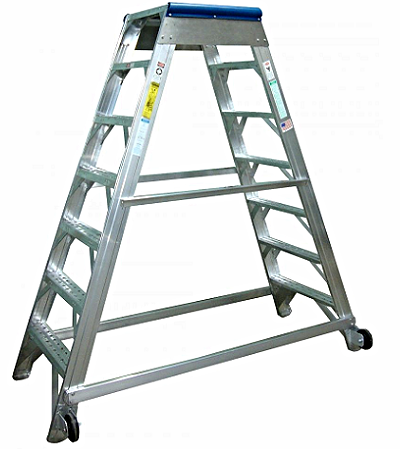 Aircraft Maintenance Ladder
This heavy duty tilt and roll style A frame ladder is used by many in the aviation industry and other commercial industrial applications.
This A-frame style ladder features a 20" x 20" head design.
Features:
Double riveted 3-3/4" slip resistant steps are also available in an aggressive perforated design for extreme environmental applications
5" wheels provide easy mobility
Reinforced heavy duty gusseting on all steps for stability and strength
Heavy duty cast aluminum feet are standard but slip resistant rubber feet are available upon request
Choose either Rubber Feet or Cast Feet
Type 1A 300 lb. rating
Shown with optional rubber bumper $42 per side
Ladders ship knock down
CALL US AT (888)-802-3651 OR CLICK BUTTON FOR A FREIGHT QUOTE
Aircraft Maintenance Ladders
WHEN YOU PURCHASE A AIRCRAFT MAINTENANCE PRODUCT FROM DIVERSE SUPPLY, YOU ARE SIMULTANEOUSLY AGREEING THAT DIVERSE SUPPLY IS NOT LIABLE FOR ANY INJURY OR PROPERTY DAMAGE RELATED TO THE USE OF THE AIRCRAFT MAINTENANCE PRODUCT.
Airplane Maintenance Ladder
Model #
Regular Tread
Weight Lbs.
Price
DS-Series 3003
3' ACM Ladder w/ wheels
40
$618
DS-Series 3004
4' ACM Ladder w/ wheels
50
$698
DS-Series 3005
5' ACM Ladder w/ wheels
60
$748
DS-Series 3006
6' ACM Ladder w/ wheels
70
$870
DS-Series 3007
7' ACM Ladder w/ wheels
80
$970
DS-Series 3008
8' ACM Ladder w/ wheels
90
$1,096
DS-Series 3009
9' ACM Ladder w/ wheels
100
$1,153
DS-Series 3010
10' ACM Ladder w/ wheels
110
$1,246
Airplane Maintenance Ladder
Model #
Aggressive Tread
Weight Lbs.
Price
DS-Series 3003-AT
3' ACM Ladder w/ wheels
40
$623
DS-Series 3004-AT
4' ACM Ladder w/ wheels
50
$746
DS-Series 3005-AT
5' ACM Ladder w/ wheels
60
$817
DS-Series 3006-AT
6' ACM Ladder w/ wheels
70
$926
DS-Series 3007-AT
7' ACM Ladder w/ wheels
80
$998
DS-Series 3008-AT
8' ACM Ladder w/ wheels
90
$1,123
DS-Series 3009-AT
9' ACM Ladder w/ wheels
100
$1,210
DS-Series 3010-AT
10' ACM Ladder w/ wheels
110
$1,335
Airplane Maintenance Ladder - 3000 Series Handrail
| Model # | Weight Lbs. | Price |
| --- | --- | --- |
| DS-ACM-SLHR 36 7.5 | 8 | $132 |
| DS-ACM-SLHR 36-MRP 7 | 8 | $250 |
| DS-ACM-SLHR 36-MRP-TB 10 | 10 | $291 |
| DS-ACM-SLHR 36-MRP-TB-LF 20 | 20 | $456 |