Electric Powered Tugger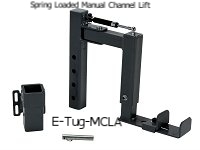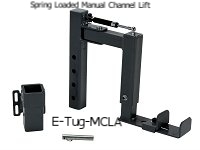 Electric Powered Tugger
Move your loads without excessive stress or strain on the user's body! Pull or push industrial carts, hoppers, trash cans, trailers and so much more.
The electric Powered Tuggers are suitable to use in airports, hospitals and wholesale and retail stores.   They can be used in a variety of applications like pulling industrial carts, hoppers, trash can, trailers and tow bars.  The tuggers also help reduce the risk of accidents and injuries and improve handling efficiencies.
Standard Features
High torque 24V DC/400W drive motor for 1000 lb capacity

High torque 24V DC/800W drive motor for 2000 lb capacity

Ergonomic handle with easy to operate throttle

Forward and reverse speeds

Horn

Electromagnetic disc brake

Automatic dead-man tat activates when the user releases the handle

[2] 12V batteries

Integral battery charger 24V/6amps [continuous current] for 1000 lb capacity

Battery charger 24V/8amps [4 amps/bank] for 2000 lb capacity

Battery level gauge

3.7 mph loaded speed

4.3 mph unloaded speed
Note: All products should be inspected frequently to insure safe operation. Final testing and inspection left to end user after final assembly has been completed.  
CALL US AT (888)-802-3651 OR CLICK BUTTON FOR A FREIGHT QUOTE
WHEN YOU PURCHASE A TUGGER FROM DIVERSE SUPPLY, YOU ARE SIMULTANEOUSLY AGREEING THAT DIVERSE SUPPLY IS NOT LIABLE FOR ANY INJURY OR PROPERTY DAMAGE RELATED TO THE USE OF THE TUGGER.
Electric Powered Tugger
Model #
Overall Size
[(W x L]
Capacity
[lbs]
Weight
[lbs]
Price
DS-E-TUG-10
20" x 24-1/2"
1000
350
$3,353
DS-E-TUG-20
27-1/2" x 24-1/2"
2000
387
$3,785
DS-E-TUG-30
29" x 32" x 52""
3000
457
$4,387