Dark Horse Folding Ladder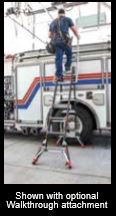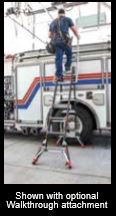 Dark Horse Folding Ladder
These ladders are the lightest industrial-grade ladders in the industry. Tip & Glide wheels eliminate the need to carry the ladder.
The vast majority of ladder accidents are caused by two things; using the incorrect ladder for the job and over-reaching. Injuries to the neck, back, shoulders, knees and ankles account for the majority of ladder-related incident With the wheels on this ladder it can help diminish injuries such as; torn ligaments, tendons and herniated disks.
Standard Features:
Non-conductive fiberglass composite for industrial and construction applications

wide rungs reduce foot fatigue

Tip & Glide wheels for easy handling

lighter than other fiberglass articulating ladders

300 lb capacity

Multi-use

Wide-flared base provide much more stability

Multiple configurations: A-frame, extension, trestle-and-plank, staircase and 90- degrees [only used on a secure wall]

Allows you to work safely on stairs

Fade resistant black fiberglass

Wide rungs reduce foot fatigue

Simple user-friendly Rock Locks
Note: All products should be inspected frequently to insure safe operation. Final testing and inspection left to end user after final assembly has been completed.
CALL US AT (888)-802-3651 OR CLICK BUTTON FOR A FREIGHT QUOTE
WHEN YOU PURCHASE A LADDER FROM DIVERSE SUPPLY, YOU ARE SIMULTANEOUSLY AGREEING THAT DIVERSE SUPPLY IS NOT LIABLE FOR ANY INJURY OR PROPERTY DAMAGE RELATED TO THE USE OF THE LADDER.
Dark Horse Multi-Use Ladder
Model #
Stepladder Max
Level
Extension
Max Height
Storage Size
[WxDxH]
Weight
[lbs]
Price
DS-15143-001
3'
8'
43" x 10"
30
$507
DS-15147-259
5'
12'
55" x 10"
39
$817
DS-15147-801
5'
12'
55" x 10"
39
$837
DS-15147-859
5'
12'
55" x 10"
39
$848
DS-15147-001
5'
12'
55" x 10"
39
$720
DS-15145-259
7'
16'
67" x 10"
46
$998
DS-15145-801
7'
16'
67" x 10"
46
$1,098
DS-15145-859
7'
16'
67" x 10"
46
$1,211
DS-15145-001
7'
16'
67" x 10"
46
$975
Price includes shipping to the 48 contiguous states
-259 includes docks -259 includes ratchet levelers -859 includes ratchet levelers and docks