Forklift Snow Plow Blade HD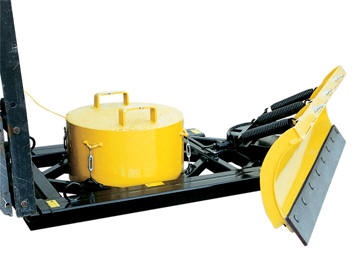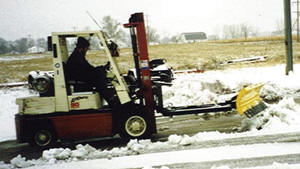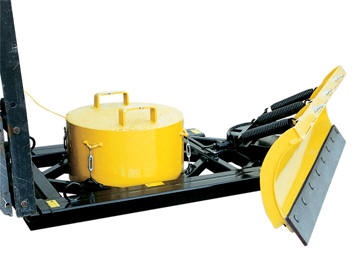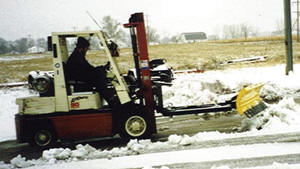 Forklift Snow Plow Blade HD
A Forklift Snow Plow Blade HD will make movement of snow at your facility an easy task so that you can reopen quickly.
A Forklift Snow Plow Blade HD may prevent delays in production at your facility after a snow. Simply secure the heavy duty snow plow blade to your forklift and start to remove the snow so that you can reopen your business. The blade is 5/8" x 6" hardened steel. There is a pivot mechanism which allows angled plowing. If you are in an area of heavy snowfalls, you might want to add the Additional Weight Container Option. This weight container can hold approximately 450 lbs. of additional weight (additional weight by others). This will improve plowing performance. The steel construction and baked on finish creates a durable Forklift Snow Plow Blade HD.
Standard Features:
Fork tubes
Pivot mechanism
5/8" x 6" hardened steel blade
Steel construction
Baked on finish
Note: All products should be inspected frequently to insure safe operation. Final testing and inspection left to end user after final assembly has been completed.
CALL US AT (888)-802-3651 OR CLICK BUTTON FOR A FREIGHT QUOTE
WHEN YOU PURCHASE A SNOW PLOW BLADE FROM DIVERSE SUPPLY, YOU ARE SIMULTANEOUSLY AGREEING THAT DIVERSE SUPPLY IS NOT LIABLE FOR ANY INJURY OR PROPERTY DAMAGE RELATED TO THE USE OF THE SNOW PLOW BLADE.
Forklift Snow Plow Blade HD
| Model # | Description | Weight (lbs.) | Price |
| --- | --- | --- | --- |
| DS-SPB-548 | 6' Blade - Maximum Fork Size of 5-1/2" x 48" | 510 | $5,748 |
| DS-SPB-556 | 7' Blade - Maximum Fork Size of 5-1/2" x 48" | 585 | $5,915 |
| DS-SPB-756 | 7' Blade - Maximum Fork Size of 7-1/2" x 48" | 594 | $5,972 |
| DS-SPB-CB | Additional Weight Container Option | 75 | $719 |