Storage Buildings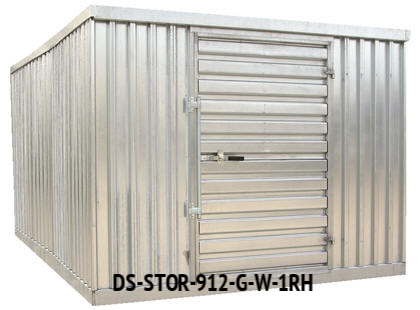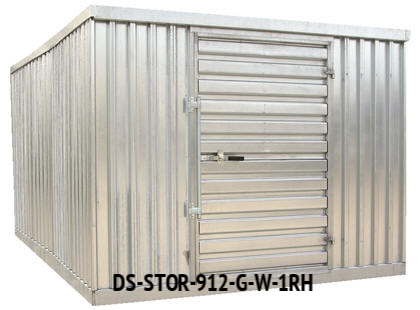 Storage Buildings
These Storage Buildings are great for storage of tools and supplies. Because they are galvanized, they are resistant to weather damage.
These Storage Buildings are appropriate for protection of tools and supplies indoors or outdoors. Because they are constructed of galvanized corrugated paneling, they are both strong and resistant to rust and corrosion. Two different models of different depths are available. The model that has a model number with 96 is the shorter depth model. The model that has a model number with 912 is the longer depth model. Other than that, both models are the same. These units have a hinged door that includes a lockable door latch (padlock not included). The door measures 45" wide and 74" high usable. A 5-3/4" wooden floor, also included, separates the contents in the Storage Building from the ground. Rain gutters are included as well. Since the sheds are shipped knocked down, end user assembly is required. The modular design is easily assembled. Because the Storage Buildings are shipped knocked down, freight costs are reasonable. Once the unit is assembled, it can be moved with a forklift. When compared to constructing a storage building with wood, paint and labor, these Storage Buildings can likely save you hundreds of dollars. At a minimum, 2 persons are required to assemble these buildings. 3 or more persons are recommended for the assembly process.
Note: All products should be inspected frequently to insure safe operation. Final testing and inspection left to end user after final assembly has been completed.
Standard Features:
Galvanized corrugated paneling

Resistance to rust and corrosion

Indoor or outdoor use

Hinged door

Lockable door latch (padlock is not included)

Wooden floor is included

Rain gutters

Hardware (nuts, bolts, washers and screws for assembly)
CALL US AT (888)-802-3651 OR CLICK BUTTON FOR A FREIGHT QUOTE
WHEN YOU PURCHASE STORAGE BUILDINGS FROM DIVERSE SUPPLY, YOU ARE SIMULTANEOUSLY AGREEING THAT DIVERSE SUPPLY IS NOT LIABLE FOR ANY INJURY OR PROPERTY DAMAGE RELATED TO THE USE OF THE STORAGE BUILDINGS.
Storage Buildings
| Model # | Description | Overall Size (WxDxH) | Usable Size (WxDxH) | Weight (lbs.) | Price |
| --- | --- | --- | --- | --- | --- |
| DS-STOR-96-G-W-1RH | Single Depth | 109-3/16"x76-1/2"x 84-3/4" | 104-3/4"x69-3/4"x77-7/16" | 1,010 | $2,576 |
| DS-STOR-912-G-W-1RH | Double Depth" | 109-1/2"x152-13/16"x84-13/16") | 104-3/4"x145-3/4"x77-7/16" | 1592 | $4,824 |