Heavy Duty Cantilever Racks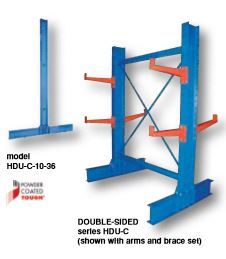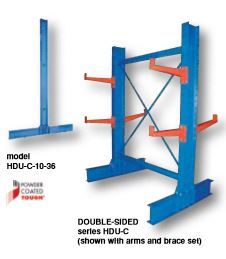 Heavy Duty Cantilever Racks
Our Heavy Duty Cantilever Racks offer durability with easy assembly and configuration for your storage space.
The Heavy Duty Cantilever Racks are easily configured with bolt together assembly of welded components and provide rugged support and durability.  Uprights, arms and braces are sold separately allowing the purchase of the most appropriate components necessary for the application.  The required assembly hardware is included.
Note: All products should be inspected frequently to insure safe operation. Final testing and inspection left to end user after final assembly has been completed.
Standard Features:
Steel construction

Baked blue finish

Warning stickers

Owner's manual
CALL US AT (888)-802-3651 OR CLICK BUTTON FOR A FREIGHT QUOTE
Heavy Duty Cantilever Racks
WHEN YOU PURCHASE A CANTILEVER RACK FROM DIVERSE SUPPLY, YOU ARE SIMULTANEOUSLY AGREEING THAT DIVERSE SUPPLY IS NOT LIABLE FOR ANY INJURY OR PROPERTY DAMAGE RELATED TO THE USE OF THE CANTILEVER RACK.
Single Sided Cantilever Uprights - Heavy Duty
Model #
Height
Base
Arms
to Use
Capacity (lbs.)
Net Weight (lbs.)
Price
DS-HU-C-8-18
96"
31"
18"
24,700
260
$652
DS-HU-C-8-24
96"
37"
24"
21,500
270
$665
DS-HU-C-8-36
96"
49"
30"/36"
18,300/16,000
290
$704
DS-HU-C-8-48
96"
61"
42"/48"
14,200/12,800
312
$744
DS-HU-C-10-18
120"
31"
18"
24,700
288
$801
DS-HU-C-10-24
120"
37"
24"
21,500
307
$845
DS-HU-C-10-36
120"
49"
30"/36"
18,300/16,000
328
$874
DS-HU-C-10-48
120"
61"
42"/48"
14,200/12,800
350
$900
DS-HU-C-12-18
144"
31"
18"
24,400
340
$882
DS-HU-C-12-24
144"
37"
24"
20,900
348
$923
DS-HU-C-12-36
144"
49"
30"/36"
17,800/15,600
370
$938
DS-HU-C-12-48
144"
61"
42"/48"
13,900/12,500
390
$957
DS-HU-C-14-18
168"
31"
18"
23,400
380
$967
DS-HU-C-14-24
168"
37"
24"
20,200
390
$994
DS-HU-C-14-36
168"
49"
30"/36"
17,600/15,400
410
$1,023
DS-HU-C-14-48
168"
61"
42"/48"
13,700/12,400
430
$1,045
Double Sided Cantilever Uprights - Heavy Duty
Model #
Height
Base
Arms
to Use
Capacity (lbs.)
Net Weight (lbs.)
Price
DS-HDU-C-8-18
96"
53"
18"
49,400
275
$626
DS-HDU-C-8-24
96"
65"
24"
43,000
307
$666
DS-HDU-C-8-36
96"
82"
30"/36"
36,600/32,000
350
$750
DS-HDU-C-8-48
96"
106"
42"/48"
28,400/25,600
390
$835
DS-HDU-C-10-18
120"
53"
18"
49,200
300
$716
DS-HDU-C-10-24
120"
65"
24"
42,600
335
$749
DS-HDU-C-10-36
120"
82"
30"/36"
36,400/31,600
386
$846
DS-HDU-C-10-48
120"
106"
42"/48"
28,200/25,200
418
$945
DS-HDU-C-12-18
144"
53"
18"
48,800
350
$831
DS-HDU-C-12-24
144"
65"
24"
41,800
385
$868
DS-HDU-C-12-36
144"
82"
30"/36"
35,600/31,200
430
$965
DS-HDU-C-12-48
144"
106"
42"/48"
27,800/25,000
470
$1,033
DS-HDU-C-14-18
168"
53"
18"
46,800
390
$1,065
DS-HDU-C-14-24
168"
65"
24"
40,400
426
$1,116
DS-HDU-C-14-36
168"
82"
30"/36"
35,200/30,800
468
$1,219
DS-HDU-C-14-48
168"
106"
42"/48"
27,400/24,800
510
$1,311
Straight Arms
Model #
Arm
Length
Uniform Capacity
Per Arm (lbs.)
Weight (lbs.)
Price
DS-HSA-C-18
18"
2,500
16
$43
DS-HSA-C-24
24"
2,000
19
$50
DS-HSA-C-30
30"
1,500
22
$55
DS-HSA-C-36
36"
1,200
24
$61
DS-HSA-C-42
42"
1,100
27
$64
DS-HSA-C-48
48"
1,000
30
$70
10 Degree Inclined Arms
Model #
Arm
Length
Uniform Capacity
Per Arm (lbs.)
Weight (lbs.)
Price
DS-HIA-C-18
18"
2,500
16
$51
DS-HIA-C-24
24"
2,000
19
$52
DS-HIA-C-30
30"
1,500
21
$60
DS-HIA-C-36
36"
1,200
24
$63
DS-HIA-C-42
42"
1,100
27
$74
DS-HIA-C-48
48"
1,000
30
$88
Heavy Duty and Extra Heavy Duty Arms
Model #
Arm
Length
Uniform Capacity
Per Arm (lbs.)
Weight (lbs.)
Price
DS-HDSA-C-36
36"
2,175
26
$74
DS-XHDSA-C-36
36"
3,400
25
$93
DS-HDSA-C-42
42"
1,865
29
$87
DS-XHDSA-C-42
42"
2,900
29
$107
DS-HDSA-C-48
48"
1,630
31
$95
DS-HDSA-C-48M
48"
2,000
33
$102
DS-XHDSA-C-48
48"
2,500
31
$114
Brace Sets - Heavy Duty
Model #
Upright
Height
Length

Weight (lbs.)
Price
DS-HB-C-8-3
96"-120"
36"
29
$77
DS-HB-C-8-4
96"-120"
48"
35
$114
DS-HB-C-8-5
96"-120"
60"
42
$193
DS-HB-C-8-6
96"-120"
72"
54
$211
DS-HB-C-8-7
96"-120"
84"
61
$224
DS-HB-C-8-8
96"-120"
96"
69
$253
DS-HB-C-14-3
144"-168"
36"
44
$117
DS-HB-C-14-4
144"-168"
48"
54
$216
DS-HB-C-14-5
144"-168"
60"
64
$261
DS-HB-C-14-6
144"-168"
72"
84
$283
DS-HB-C-14-7
144"-168"
84"
95
$300
DS-HB-C-14-8
144"-168"
96"
107
$319