Fork Truck Economy Boom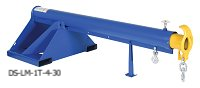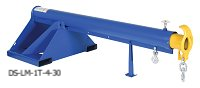 Fork Truck Economy Boom
Unique performance, convenience, economical and safety features are built into every boom. Great option instead of buying a more expensive boom.
This economy boom is rugged, durable, convenient and will provide long term service. Choose from telescopic or non telescopic units
Standard Features
36" minimum hook point
Hook Height is 6"
144" maximun hook point
24" fork pocket centers
36" safety restraint for securing platform to fork truck
Each unit has two lifting hooks.
Painted blue and yellow enamel
Options
DS-LM-FP Larger Fork Pockets 8-1/4" wide x 4-1/4" high [inside dimensions] $227
DS-LM-FP-37 Larger Fork Pockets 7" wide x 3" high [inside dimensions] $227
DS-LM-FP-39 Larger Fork Pockets 9" wide x 3" high [inside dimensions] $227
Note: Never exceed load center rating per fork truck manufacturer's guidelines. Do not use this fork truck attachment if load will exceed fork truck manufacturer's load center rating.
Note: All products should be inspected frequently to insure safe operation. Final testing and inspection left to end user after final assembly has been completed.
CALL US AT (888)-802-3651 OR CLICK BUTTON FOR A FREIGHT QUOTE
WHEN YOU PURCHASE A FORK TRUCK ATTACHMENT FROM DIVERSE SUPPLY, YOU ARE SIMULTANEOUSLY AGREEING THAT DIVERSE SUPPLY IS NOT LIABLE FOR ANY INJURY OR PROPERTY DAMAGE RELATED TO THE USE OF THE FORK TRUCK ATTACHMENT.
Fork Truck Economy Booms
Model #
Description
Fork Pocket
Center
Overall Extended
length
Height
Uniform
Capacity [lbs]
Weight [lbs]
Price
DS-LM-EBT-4-11
Telescoping Style
11"
151-1/2"
13-7/8"
4,000
333
$897
DS-LM-EBT-4-24
Telescoping Style
24"
151-1/2
13-1/2"
4,000
333
$915
DS-LM-EBT-4-30
Telescoping Style
30"
151-1/2"
13-3/16"
4,000
375
$945
DS-LM-EBT-4-36
Telescoping Style
36"
151-1/2"
13-3/16"
4,000
381
$989
DS-LM-EBNT-4-11
Non-Telescoping Style
11"
81-3/4"
13-5/16"
4,000
369
$687
DS-LM-EBNT-4-24
Non-Telescoping Style
24"
81-5/8"
13-5/16"
4,000
258
$708
DS-LM-EBNT-4-30
Non-Telescoping Style
30"
81-3/4"
13-5/16"
4,000
269
$731
DS-LM-EBNT-4-36
Non-Telescoping Style
36"
81-3/4"
13-5/16"
4,000
274
$751
DS-LM-EBT-6-11
Telescoping Style
11"
153-1/2"
13-7/8"
6,000
439
$1,315
DS-LM-EBT-6-24
Telescoping Style
24"
153-1/2"
13-7/8"
6,000
439
$1,331
DS-LM-EBT-6-30
Telescoping Style
30"
153-1/2"
13-3/16"
6,000
409
$1,357
DS-LM-EBT-6-36
Telescoping Style
36"
151-1/2"
13-3/16"
6,000
448
$1,386
DS-LM-EBNT-6-11
Non-Telescoping Style
11"
81-3/4"
13-5/16"
6,000
285
$1,088
DS-LM-EBNT-6-24
Non-Telescoping Style
24"
81-5/8"
13-5/16"
6,000
291
$1,122
DS-LM-EBNT-6-30
Non-Telescoping Style
30"
81-3/4"
13-5/16"
6,000
312
$1,156
DS-LM-EBNT-6-36
Non-Telescoping Style
36"
81-3/4"
13-5/16"
6,000
341
$1,190
DS-LM-EBT-8-24
Telescoping Style
24"
149-3/8"
15"
8,000
602
$1,709
DS-LM-EBT-8-30
Telescoping Style
30"
149-3/8"
15"
8,000
602
$1,761
DS-LM-EBT-8-36
Telescoping Style
36"
149-3/8"
15"
8,000
638
$1,814
DS-LM-EBNT-8-24
Non-Telescoping Style
24"
80-3/8"
11-1/2"
8,000
418
$1,499
DS-LM-EBNT-8-30
Non-Telescoping Style
30"
80-3/8"
11-1/2"
8,000
634
$1,544
DS-LM-EBNT-8-36
Non-Telescoping Style
36"
80-3/8"
11-1/2"
8,000
658
$1,589