Fork Truck Fork Caddy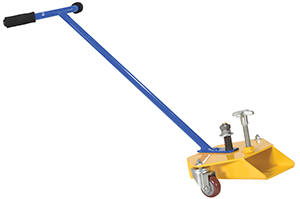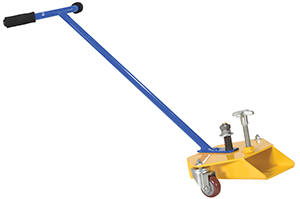 Fork Truck Fork Caddy
Safely and conveniently work on fork truck forks to accomplish changing the forks with ease. Portable and easy to move anywhere it is needed.
This caddy also allows the user to easily remove and install forks onto a fork truck. This is usually a dangerous and time consuming process, but the fork caddy makes this a simplified task.
After transporting the fork to the forklift, rotate the handle 90 degree then slide the fork onto the mast. The caddy has easy-grip handles and rolls smoothly on two swivel casters. A star knob secures the caddy onto the fork to keep it in place while transporting. The comfort-grip handle pivots up to 180 degrees to allow for easier mobility. The fork caddy is lightweight and small enough for easy storage as well.
Note: All products should be inspected frequently to insure safe operation. Final testing and inspection left to end user after final assembly has been completed.
CALL US AT (888)-802-3651 OR CLICK BUTTON FOR A FREIGHT QUOTE
WHEN YOU PURCHASE A CADDY FROM DIVERSE SUPPLY, YOU ARE SIMULTANEOUSLY AGREEING THAT DIVERSE SUPPLY IS NOT LIABLE FOR ANY INJURY OR PROPERTY DAMAGE RELATED TO THE USE OF THE FORK CADDY.
Fork Truck Fork Caddy
Model #
Usable Size
[WxH]
Caster
Capacity
[lbs]
Weight Lbs.
Price
DS-FC-29
6-5/8" x 1-1/4"
3" x 1-1/4" Swivel
300
31
$352
All Dimensions are in inches
Information in videos subject to change without notice. Prior to ordering, please discuss critical features of the product with your Platforms and Ladders salesperson.