Forklift Fold Down Work Platform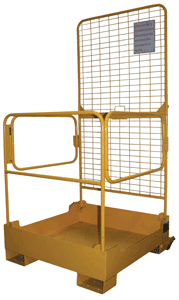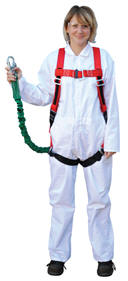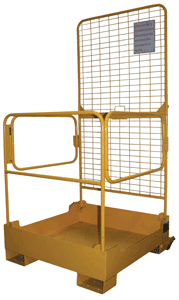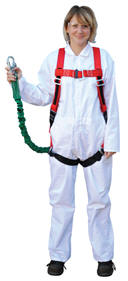 Forklift Fold Down Work Platform
Elevate personnel to overhead racks and shelving for safe and convenient access. Folds down for easy and compact storage.
This fork truck platform folds down and stores in a 4" deep bottom base, with a folded height of 11-5/8". When not in use 1 person can fold it down and move it to the storage area.
Standard Features
38" high top handrail with 23-1/2" midrail
70" high expanded metal backing [84" high to meet CAL OSHA ]
Diamond plate solid tread platform
Tine Lock and safety restraints to attach platform to fork truck
37" x 37" platform size
7-7/8" wide x 3-3/8" high on 27-3/4" centers usable fork pockets
38" wide x 38" long x 81-1/2" high overall size
38" wide x 28" long x 11-5/8" high foldable size
600 lb capacity
Powder coated steel
Never exceed load center rating per fork truck attachment if load will exceek fork truck manufacturer's load center rating.
Options
Tool Tray DS-WP-FD-TT $75
4" x 2" casters [2 rigid & 2 swivel] DS-WP-CAFD $142
Safety Harness and Lanyard [see http://www.platformsandladders.com/facility-maintenance/lanyard-with-safety-harness-or-safety-belt
Note: All products should be inspected frequently to insure safe operation. Final testing and inspection left to end user after final assembly has been completed
Fold Down Work Platforms for Fork Lifts
WHEN YOU PURCHASE A FORK TRUCK ATTACHMENT FROM DIVERSE SUPPLY, YOU ARE SIMULTANEOUSLY AGREEING THAT DIVERSE SUPPLY IS NOT LIABLE FOR ANY INJURY OR PROPERTY DAMAGE RELATED TO THE USE OF THE FORK TRUCK ATTACHMENT.
Forklift Fold Down Work Platform
| Model # | Description | Weight (lbs.) | Price |
| --- | --- | --- | --- |
| DS-WP-3737-FD | Standard | 175 | $959 |
| DS-WP-3737-84B | CAL OSHA | 195 | $1,255 |
37" wide x 37" deep platform size