Dock Barricade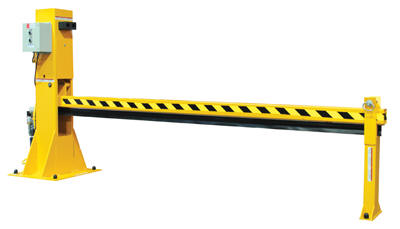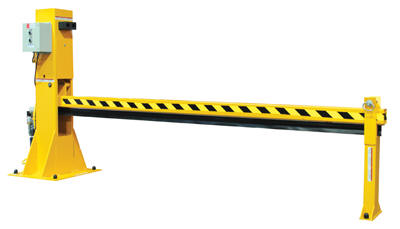 Dock Barricade
The Dock Barricade, which possibly may stop a 4000 lb. fork truck moving at 4 mph, is an innovative loading dock safety component.
Designed to help prevent loading dock "run offs". The electric/hydraulic power unit provides quick and effortless operation. It is electronically operated and consists of an electrical bumper-style safety stop circuit to sense obstructions when lowering. Installation is simple, anchor the unit to the floor, mount the control on the wall and plug it in for use.
Standard Features
Includes a lock bar on the arm post to restrict rotation of the barricade arm
Black/yellow safety tape
Padlock is NOT included
Manual hand crank winch to raise/lower barricade arm on -MW
Yellow enamel painted finish
Note: All products should be inspected frequently to insure safe operation. Final testing and inspection left to end user after final assembly has been completed.
CALL US AT (888)-802-3651 OR CLICK BUTTON FOR A FREIGHT QUOTE
WHEN YOU PURCHASE A BARRICADE FROM DIVERSE SUPPLY, YOU ARE SIMULTANEOUSLY AGREEING THAT DIVERSE SUPPLY IS NOT LIABLE FOR ANY INJURY OR PROPERTY DAMAGE RELATED TO THE USE OF THE BARRICADE.
Dock Barricade
Model #
Operation
Door Size
[WxH]
Arm Height
Raised/Lowered
Overall Size
[WxL]
Weight
[lbs]
Price
DS-DJG-100
Electric
96" x 96"
148-5/8" / 28-1/2"
24" x 130-3/4"
780
$4,219
DS-DJG-100-10
Electric
120" x 120"
172-5/8" / 28-1/2"
24" x 154-3/4"
800
$4,649
DS-DJG-100MW
Mechanical Winch
96" x 96"
149" / 32"
24" x 133-1/4"
408
$2,216
Information in videos subject to change without notice. Prior to ordering, please discuss critical features of the product with your Platforms and Ladders salesperson.