Alternating Step Cross-Over Ladders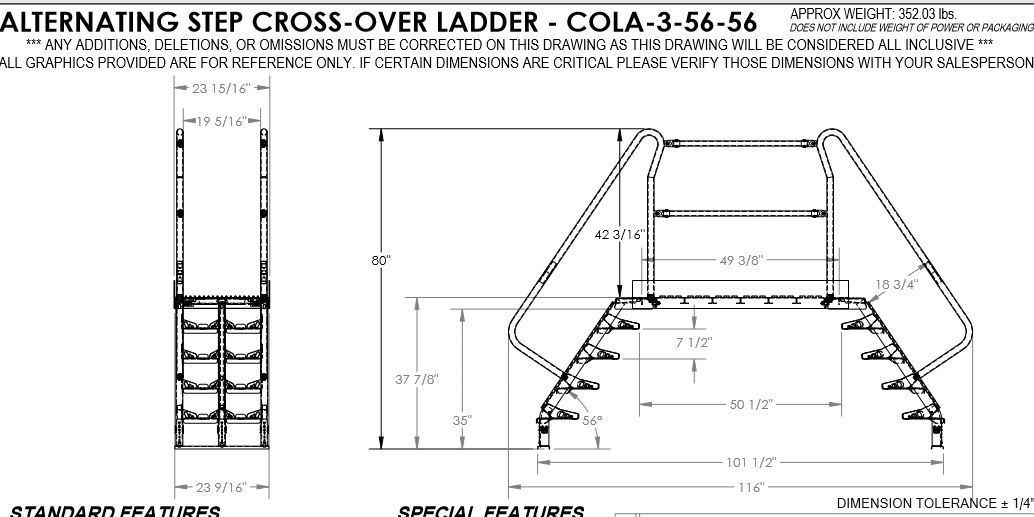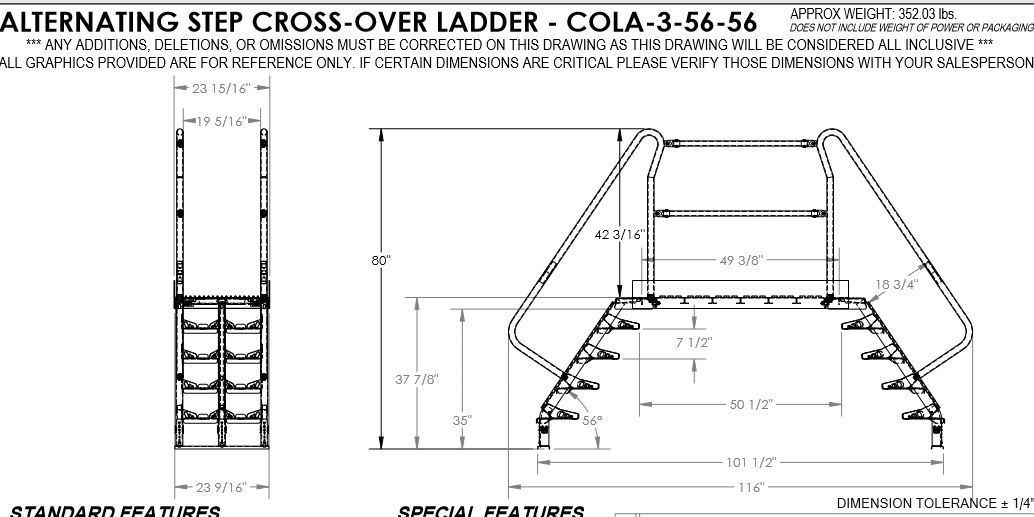 Alternating Step Cross-Over Ladders
Mount where you need permanent access at crossover points. Alternating step design for shorter overall span than other units.
Wherever you have space issues this crossover has a shorter overall footprint for a more compact fit. If you do not see the size you need, please call and we will make it to your specifications.
Standard Features
Removable handrails 39" high with 21" mid-rail
4" toe boards to prevent objects from falling
Usable platform width is 19-5/16"
Serrated treads
Floor lag-down points (units must be anchored) [mounting hardware not included]
Steel construction
350 pound uniform capacity
Knocked down for shipping and storage
Powder-coated yellow
OSHA 29 STD01-01-011 and ANSI A14.7 compliant
Note: All products should be inspected frequently to insure safe operation. Final testing and inspection left to end user after final assembly has been completed.
CALL US AT (888)-802-3651 OR CLICK BUTTON FOR A FREIGHT QUOTE
Alternating Step Cross-Over Ladder
WHEN YOU PURCHASE A CROSSOVER FROM DIVERSE SUPPLY, YOU ARE SIMULTANEOUSLY AGREEING THAT DIVERSE SUPPLY IS NOT LIABLE FOR ANY INJURY OR PROPERTY DAMAGE RELATED TO THE USE OF THE CROSSOVER.
Alernating Step Steel Crossover
Model #
Steps

Clearance
Height
Clearance
Span
Overall
Length
Overall
Height
Step
Angle Degree
Weight
[Lbs]
Price

DS-COLA-2-56-20
4
27"
21-1/4"
78-1/8"
72"
56
324
$1,952
DS-COLA-2-56-32
4
27"
29-1/4"
85-1/4"
72"
56
357
$2,011
DS-COLA-2-56-44
4
27"
36-1/4"
92-1/8"
72"
56
390
$2,079
DS-COLA-2-56-56
4
27"
50-1/4"
106-1/8"
72"
56
423
$2,141
DS-COLA-2-68-20
4
27"
20"
65"
72-1/2"
68
296
$1,953
DS-COLA-2-68-32
4
27"
27"
72"
72-1/2"
68
329
$2,012
DS-COLA-2-68-44
4
27"
34"
79"
72-1/2"
68
362
$2,079
DS-COLA-2-68-56
4
27"
48"
93"
72-1/2"
68
396
$2,141
DS-COLA-3-56-20
5
35"
22-1/2"
88"
80"
56
324
$1,953
DS-COLA-3-56-32
5
35"
29-1/2"
95"
80"
56
357
$2,013
DS-COLA-3-56-44
5
35"
36-1/2"
102"
80"
56
390
$2,084
DS-COLA-3-56-56
5
35"
50-1/2"
116"
80"
56
423
$2,147
DS-COLA-3-68-20
5
35"
20"
116"
80-1/2"
68
296
$1,959
DS-COLA-3-68-32
5
35"
27"
72"
80-1/2"
68
329
$2,023
DS-COLA-3-68-44
5
35"
34"
79"
80-1/2"
68
362
$2,088
DS-COLA-3-68-56
5
35"
48"
93"
80-1/2"
68
396
$2,148
DS-COLA-4-56-20
7
45"
21-3/4"
96-1/4"
90-1/2"
56
324
$2,183
DS-COLA-4-56-32
7
45"
28-3/4"
95"
96-1/4"
56
357
$2,189
DS-COLA-4-56-44
7
45"
35-3/4"
103-1/4"
90-1/2"
56
390
$2,524
DS-COLA-4-56-56
7
45"
49-3/4"
117-1/4"
90-1/2"
56
423
$2,529
DS-COLA-4-68-20
7
45"
19-1/2"
68-1/2"
91"
68
296
$2,904
DS-COLA-4-68-32
7
45"
26-1/2"
75-1/2"
91"
68
329
$2,909
DS-COLA-4-68-44
7
45"
33-1/2"
82-1/2"
91"
68
362
$3,282
DS-COLA-4-68-56
7
45"
47-1/2"
96-1/2"
91"
68
396
$3,289
DS-COLA-5-56-20
8
57-1/2"
22-1/2"
104-1/2"
102-1/2"
56
358
$2,526
DS-COLA-5-56-32
8
57-1/2"
29-1/2"
111-1/2"
102-1/2"
56
390
$2,529
DS-COLA-5-56-44
8
57-1/2"
36-1/2"
118-1/2"
102-1/2"
56
424
$2,914
DS-COLA-5-56-56
8
57-1/2"
50-1/2"
133-1/2"
102-1/2"
56
456
$2,919
DS-COLA-5-68-20
8
57-3/8"
20"
77-1/2"
103"
68
330
$3,291
DS-COLA-5-68-32
8
57-3/8"
27"
84-/1/2
1032"
68
363
$3,298
DS-COLA-5-68-44
8
57-3/8"
34"
91-1/2"
103"
68
396
$3,643
DS-COLA-5-68-56
54
57-3/8"
48"
105-1/2
103"
68
430
$3,648
DS-COLA-6-56-20
10
69-1/2"
22"
122"
114-1/2"
56
396
$2,914
DS-COLA-6-56-32
10
69-1/2"
29"
129"
114-1/2"
56
429
$2,919
DS-COLA-6-56-44
10
69-1/2"
36"
136"
114-1/2"
56
418
$3,286
DS-COLA-6-56-56
10
69-1/2"
50"
150"
114-1/2"
56
429
$3,293
DS-COLA-6-68-20
10
69-3/8"
19-3/4"
87-1/2"
115"
68
402
$3,637
DS-COLA-6-68-32
10
69-1/2"
26-3/4"
87-1/2"
115"
68
413
$3,644
DS-COLA-6-68-44
10
69-3/8"
33-3/4"
101-1/2"
80-1/2"
68
431
$4,017
DS-COLA-6-68-56
10
69-3/8"
47-3/4"
115-1/2"
1152"
68
464
$4,026
DS-COLA-7-56-20
12
81-3/8"
21-3/4"
137-1/2"
126-1/2"
56
433
$3,296
DS-COLA-7-56-32
12
81-3/8"
28-3/4"
144-1/2"
126-1/2"
56
466
$3,299
DS-COLA-7-56-44
12
81-3/8"
35-3/4"
151-1/2"
126-1/2"
56
499
$3,639
DS-COLA-7-56-56
12
81-3/8"
49-3/4"
165-1/2"
126-1/2"
56
532
$3,648
DS-COLA-7-68-20
12
81-3/8"
19-3/4"
97-3/8"
1272"
68
400
$4,027
DS-COLA-7-68-32
12
81-1/2"
293/47"
104-3/8"
127"
68
444
$4,031
DS-COLA-7-68-44
12
81-1/2"
33-3/4"
111-3/8"
127"
68
475
$4,389
DS-COLA-7-68-56
12
81-1/2"
47-3/4"
125-3/8"
127"
68
499
$4,396
All Dimensions are in inches