Custom Work Platforms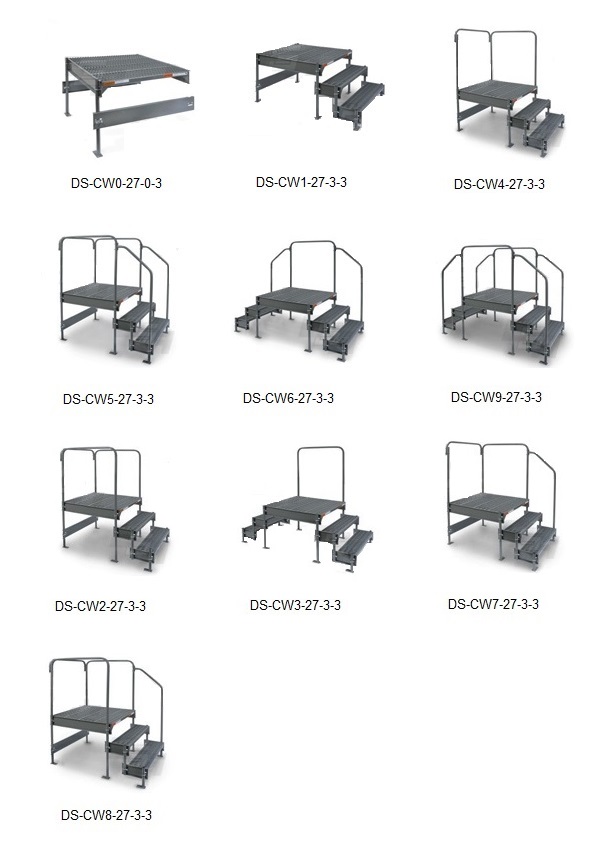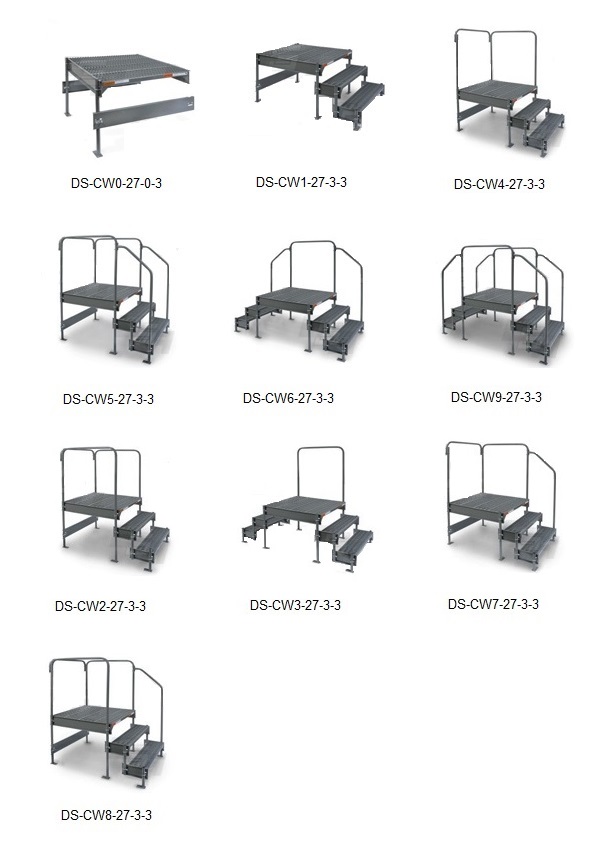 Custom Work Platforms
Custom Work Platforms allow you to choose the style, height and configuration that meets your commercial or industrial work space.
Our work platforms have a 500 lb. capacity. All of these custom work platforms, regardless of the dimensions and purpose, meet or exceed OSHA standards. Please call us and we will be happy to help with the layout of your platform system.
Build large multi height work platforms that surround machinery or span entire factory or warehouse floor spaces

Attach same height lift extension units to select platforms that add 3 feet of width

Use units of different height to create multi level areas for easier access to work areas

Rigid 1-1/4" tubing provides strength and durability

Steps are 36" wide and 9 1/2" deep

Grip Strut tread for slip resistant footing
Custom Work platform product line is fabricated to be in compliance with OSHA Standards. This product line is best described as a "Special Purpose" Portable Platform Ladder per discussions with OSHA-Technical Support (Chicago) and thus would fall under 29CFR1910 Subpart D Walking-Working Surfaces (paragraphs 1910.21 thru 1910.30) and more specifically 29CFR1910.26
CALL US AT (888)-802-3651 OR CLICK BUTTON FOR A FREIGHT QUOTE
WHEN YOU PURCHASE A CUSTOM WORK PLATFORM FROM DIVERSE SUPPLY, YOU ARE SIMULTANEOUSLY AGREEING THAT DIVERSE SUPPLY IS NOT LIABLE FOR ANY INJURY OR PROPERTY DAMAGE RELATED TO THE USE OF THE CUSTOM WORK PLATFORM.
Custom Work Platforms - Grip Strut
Model #
Style
# of
Steps
Overall
Width
Overall
Length
Overall
Height
Platform
Width
Platform
Length
Platform
Height
Weight
Lbs.
Grip Strut
DS-CW0-21-0-3
0
N/A
39"
39"
21"
36"
39"
21"
70
$405
DS-CW0-27-0-3
0
N/A
39"
39"
27"
36"
39"
27"
74
$462
DS-CW0-33-0-3
0
N/A
39"
39"
33"
36"
39"
33"
74
$466
DS-CW0-39-0-3
0
N/A
39"
39"
39"
36"
39"
39"
78
$471
DS-CW0-45-0-3
0
N/A
39"
39"
45"
36"
39"
45"
78
$478
DS-CW1-21-2-3
1
2
39"
57"
21"
36"
39"
21"
70
$597
DS-CW1-21-2-6
1
2
39"
95"
21"
36"
77"
21"
142
$1,022
DS-CW1-33-3-3
1
3
39"
57"
33"
36"
39"
33"
74
$765
DS-CW1-33-3-6
1
3
39"
95"
33"
36"
77"
33"
150
$1,273
DS-CW2-21-2-3
2
2
39"
48"
55"
36"
39"
21"
70
$761
DS-CW2-21-2-6
2
2
39"
86"
55"
36"
77"
21"
142
$1,335
DS-CW3-21-2-3
3
2
39"
57"
55"
36"
39"
21"
70
$813
DS-CW3-21-2-6
3
2
39"
95"
55"
36"
77"
21"
142
$1,315
DS-CW4-21-2-3
4
2
39"
48"
55"
36"
39"
21"
70
$697
DS-CW4-21-2-6
4
2
39"
86"
55"
36"
77"
21"
142
$1,197
DS-CW5-27-3-3
5
3
39"
57"
61"
36"
39"
27"
74
$1,009
DS-CW5-27-3-6
5
3
39"
95"
61"
36"
77"
27"
150
$1,686
DS-CW5-33-3-3
5
3
39"
57"
67"
36"
39"
33"
74
$1,028
DS-CW5-33-3-6
5
3
39"
95"
67"
36"
77"
33"
150
$1,732
DS-CW6-33-3-3
6
3
39"
75"
67"
36"
39"
33"
74
$1,258
DS-CW6-33-3-6
6
3
39"
113"
67"
36"
77"
33"
150
$1,867
DS-CW6-45-4-3
6
4
39"
93"
79"
36"
39"
45"
78
$1,641
DS-CW6-45-4-6
6
4
39"
131"
79"
36"
77"
45"
158
$2,260
DS-CW7-27-3-3
7
3
39"
57"
61"
36"
39"
27"
74
$926
DS-CW7-27-3-6
7
3
39"
95"
61"
36"
77"
27"
150
$1,516
DS-CW7-33-3-3
7
3
39"
57"
67"
36"
39"
33"
74
$1,129
DS-CW7-33-3-6
7
3
39"
95"
67"
36"
77"
33"
150
$1,737
DS-CW7-45-4-3
7
4
39"
66"
79"
36"
39"
45"
78
$1,142
DS-CW7-45-4-6
7
4
39"
104"
79"
36"
77"
45"
158
$1,763
DS-CW8-39-4-3
8
4
39"
66"
73"
36"
39"
39"
78
$1,218
DS-CW8-39-4-6
8
4
39"
104"
73"
36"
77"
39"
158
$1,928
DS-CW8-45-4-3
8
4
39"
66"
79"
36"
39"
45"
78
$1,224
DS-CW8-45-4-6
8
4
39"
104"
79"
36"
77"
45"
158
$1,935
DS-CW9-33-3-3
9
3
39"
75"
67"
36"
39"
33"
74
$1,392
DS-CW9-33-3-6
9
3
39"
113"
67"
36"
77"
33"
150
$2,096
All Dimensions are in inches
5 day lead-time